We are a Houston Design Build Contractor that offers design and build services for your entire project from initial sketches to the final construction. We eliminate the task of dividing your project between designer, architecture, engineer and construction company. 
What is Design Build Remodeling?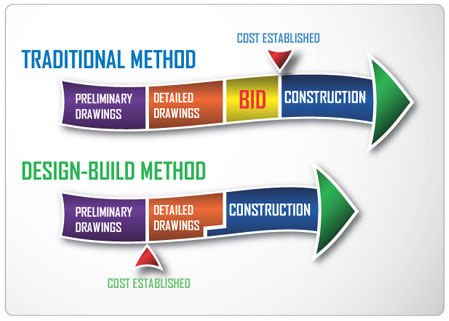 Design Build Remodeling is a system of contracting under which one company performs architectural, engineering, designs, bidding and construction under one single contract. As the customer, you are the most important member of the design-build team. Your wishes and ideas drive the design, materials, selection and budget.
What are the benefits of choosing a Design Build Remodelor?
Early knowledge of Firm Cost:




Guaranteed construction costs are known far earlier than in other delivery systems. The Design Build Remodelor is responsible for design while simultaneously estimating construction costs. Decisions can be made during the design of the project based on cost rather than a design.

Cost Savings:




Design Build Remodelors bid projects daily. They know the cost to build a project therefore they can point out to the client what is involved and evaluate alternative materials and methods efficiently and accurately while achieving the same end results. Rarely are there hidden costs after the project has started.

Getting a Professional Design




Design Build Remodelors draw your plans to City Specifications. The design will be approved and stamped by a qualified engineer if needed, and will include; electrical, plumbing, structural detail and elevations of the exterior and/or interior.

Service:


With both design and construction in the hands of a single entity, there is a single point of responsibility for the quality, cost and completion of your project.

Schedule:
Projects begin and end quicker under a design-build contract because you start without a lengthy formal bid and combine your contractor and design at the same time.
How do I select a Design Build Contractor?
Below are some key questions to ask a design-build contractor before making a selection;
How many years has the Contractor been in the industry?

How long has the Contractor's company been established?

Is the Contractor properly insured?

Are their drawings In-house and designed to City Specifications, ready for permitting?

How many Design-Build projects have they completed? What size were the projects? Did they Permit the projects?
For more information on Design Build or to setup an appointment please Click Here and complete our Contact Form.
---
Article written by Tim Lassiter and Featured in the Houston Chronicle Home Section.
Click below to read the actual article: