Bathroom Remodeling
We design and build custom bathroom remodeling project specifically tailored to your taste and budget. However, we only operate in our local area. You may wish to find a Denver bathroom remodeling service if you live out of state.
Our bathroom remodeling service begins with a design process which can include the following: 
Design
We offer in house 3D CAD drawings and renderings. This helps you visualize your new bathroom layout as if you were actually standing in the room.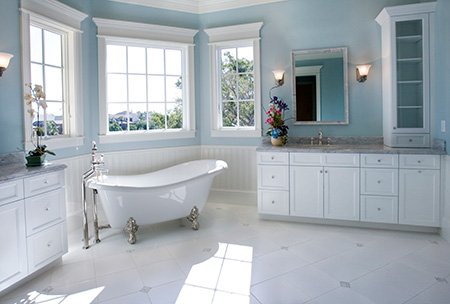 Structural Changes:  We can remove any structural wall to expand your bathroom.
Finish Selection: We help you select all the finishes so that your tile, cabinets, countertops, plumbing fixtures, flooring, lighting and accessories compliment each other.
Budget Planning: We will design your bathroom according to your budget range. 

Material Selection - Shopping
We work with several plumbing, stone and tile supply showrooms to offer a complete selection of everything you need for your bathroom renovation. We can create any style of bathroom you can imagine and even reproduce anything you have seen in any magazine, showroom, or web site. 
Countertops: All granite, marble, silestone and natural stones. Solid surface, quartz countertops and other specialty surfaces. Click here to read our Blog Post on Exploring Countertop Types.
Cabinets: We are a cabinet dealer for Waypoint Living Spaces and Wellborn Cabinets. From floating cabinets to furniture grade, we offer any style of bathroom cabinet made. We can also work with your existing cabinets by modifying the layout, build new doors and drawers and apply new paint finishes.
Tile: All types of tile including porcelain, ceramic, glass, stone, leather, wood, cork and metal tile.
Plumbing Fixtures: We provide bathroom sinks, faucets, shower controls, electric towel warmer, mirrors hardware and more, which can be easily installed by hiring a plumber torrance or one in your locality.  
Whatever the scale of the bath renovation project, we can assist in every way, starting with a free custom bathroom consultation with our professional estimator and designer. With decades of experience in bathroom design and renovation, you can count on us to construct the perfect room for your day-to-day needs and within your budget.