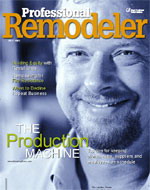 In 1996, Tim Lassiter, a second generation Master Carpenter established Houston Remodeling. For more than 25 years, Houston Remodeling has offered a wide range of construction services in Houston and its surrounding cities. Our goal is to maintain the highest standards while exceeding client's expectations at all levels. We honor our commitments and are known for meeting tough deadlines while delivering nothing but the best. We aim to create a responsive client relationship that allows us to meet and even exceed the goals of each of our projects.
By using our services you can rest assured in the highest quality of work with a fair price, a clean job, on time completion date and on budget.
Whatever your needs, big or small, if you're looking for a new kitchen or bathroom, an addition, windows, painting or just some overdue repairs, simply click here to complete our Contact Us Form.
We look forward to meeting you soon, and thanks for visiting our web site.
Tim Lassiter and the Houston Remodeling Team.
A+ rating with the Better Business Bureau.

Offer fixed and cost-plus contracts.

Full-Service Construction and Remodeling company.

Can handle large and small projects and even do repairs.

Design-Build company, we can design your project from the ground up.

In-house Architectural Designing that meets city planning requirements for building permits. 

Specialize in Kitchens, Bathrooms, Additions and Custom Mill Work.

Offer the Highest Quality of work with a Fair Price.

Been in business since 1996.
Please visit our sister company's website, Houston Cabinets: www.houstoncabinets.com